---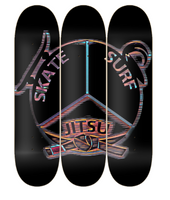 Introducing our latest Skateboard Wall Art, "The Night" - a perfect addition to your collection that beautifully captures the essence of both skateboarding and jiu-jitsu.
The stunning artwork features a striking contrast of black and white tones, creating a mesmerizing effect that will surely impress any skateboarding or jiu-jitsu enthusiast. 
This Skateboard Wall Art piece is a perfect embodiment of the synergy between skateboarding and jiu-jitsu, as both sports require a great deal of balance, control, and precision. The artwork is printed on high-quality maple wood, ensuring durability and longevity. The piece measures 31 inches by 8 inches, making it a perfect fit for any room in your home or office.
Whether you're a passionate skateboarder, a jiu-jitsu practitioner, or just appreciate great art, this Skateboard Wall Art piece is a must-have addition to your collection. So, bring home "The Night" and elevate the aesthetics of your space with this stunning piece of art that embodies the essence of both skateboarding and jiu-jitsu.


Made to order in USA!  FREE Shipping!
All our decks are made out of Canadian Maple, here in the USA.  
| | |
| --- | --- |
| Deck Length | 32.25" |
| Wheelbase | 14.25" |
| Concave | Medium Concave |
| Construction | 7 ply Made In USA Cold Pressed Canadian Hard Rock Maple |
The delivery estimate is 45 workdays.