---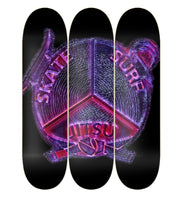 Introducing our awesome Skateboard Wall Art featuring the vibrant Purple Nurple design. This colorful piece is perfect for anyone who loves the thrill of skateboarding or the discipline of jiu-jitsu.
Crafted with the utmost care and precision, this Skateboard Wall Art is made from high-quality materials, ensuring longevity and durability. The Purple Nurple design is printed using state-of-the-art printing technology, creating a stunning visual that will add life and energy to any room.
Whether you're a jiu-jitsu practitioner looking to motivate yourself for your next competition or a skateboarder who wants to add some style to your skating space, this Skateboard Wall Art is the perfect choice. The vibrant colors and bold design will inspire you to push yourself to the limit and achieve your goals.
Hang it up in your training room, bedroom, or living room, and watch as it transforms the space into a stylish work of art. This Skateboard Wall Art is the perfect way to showcase your love for jiu-jitsu and skateboarding in a fun and exciting way.
So why wait? Add this amazing Skateboard Wall Art to your collection today and experience the perfect blend of jiu-jitsu and skateboarding in a single piece of art.



Made to order in USA!  FREE Shipping!
All our decks are made out of Canadian Maple, here in the USA.  
| | |
| --- | --- |
| Deck Length | 32.25" |
| Wheelbase | 14.25" |
| Concave | Medium Concave |
| Construction | 7 ply Made In USA Cold Pressed Canadian Hard Rock Maple |
The delivery estimate is 45 workdays.