---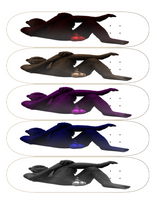 Introducing our "5 Gorillas on Black & White" Skateboard Wall Art, a perfect blend of skateboarding and jiu-jitsu. This unique piece of artwork captures the essence of these two sports, making it a must-have for any skateboard or jiu-jitsu enthusiast.
The artwork features five gorillas, each performing a different skateboard trick or a lazy ass chilling between jiu-jitsu rounds, against a black and white backdrop, creating a stunning visual effect. The composition showcases the power, agility, and strength of these amazing animals, much like the skills required for both skateboarding and jiu-jitsu.
The Skateboard Wall Art is made from high-quality maple wood, ensuring durability and longevity. The piece measures 31 inches by 8 inches, making it a perfect fit for any room in your home or office. The striking design will impress anyone who sees it, adding a unique and inspiring touch to your space.
Skateboarding and jiu-jitsu both require discipline, focus, and practice, and this artwork perfectly captures the spirit of both. Whether you're a passionate skateboarder or jiu-jitsu practitioner, or simply appreciate great art, this Skateboard Wall Art is a must-have.
So, bring home "5 Gorillas on Black & White" Skateboard Wall Art and elevate your space with this stunning piece of art that perfectly embodies the essence of both skateboarding and jiu-jitsu.



Made to order in USA!  FREE Shipping!
All our decks are made out of Canadian Maple, here in the USA.  


| | |
| --- | --- |
| Deck Length | 32.25" |
| Wheelbase | 14.25" |
| Concave | Medium Concave |
| Construction | 7 ply Made In USA Cold Pressed Canadian Hard Rock Maple |
The delivery estimate is 45 workdays.