---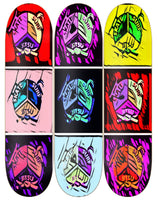 Introducing our amazing Skateboard Wall Art featuring the stunning ThreeX3 design. This beautiful piece captures the essence of surfing, skateboarding, and jiu-jitsu, making it perfect for anyone who loves the outdoors and adventure.
Crafted with precision and care, this Skateboard Wall Art is made from high-quality materials, ensuring durability and longevity. The ThreeX3 design is printed using state-of-the-art printing technology, creating a stunning visual that will add a touch of elegance to any room.
Whether you're a jiu-jitsu practitioner looking to motivate yourself for your next competition, a skateboarder who wants to showcase their love for the sport, or a surfer who wants to bring the ocean indoors, this Skateboard Wall Art is the perfect choice. The dynamic ThreeX3 design blends the best of these three sports, making it a unique and versatile piece of art.
Hang it up in your training room, living room, or bedroom, and watch as it transforms the space into a stylish work of art. This Skateboard Wall Art is the perfect way to showcase your love for jiu-jitsu, skateboarding, and surfing in a fun and exciting way.
So why wait? Add this amazing Skateboard Wall Art to your collection today and experience the perfect fusion of jiu-jitsu, skateboarding, and surfing in a single piece of art.



Made to order IN USA!  FREE Shipping!
All our decks are made out of Canadian Maple, here in the USA.  

| | |
| --- | --- |
| Deck Length | 32.25" |
| Wheelbase | 14.25" |
| Concave | Medium Concave |
| Construction | 7 ply Made In USA Cold Pressed Canadian Hard Rock Maple |
The delivery estimate is 45 workdays.